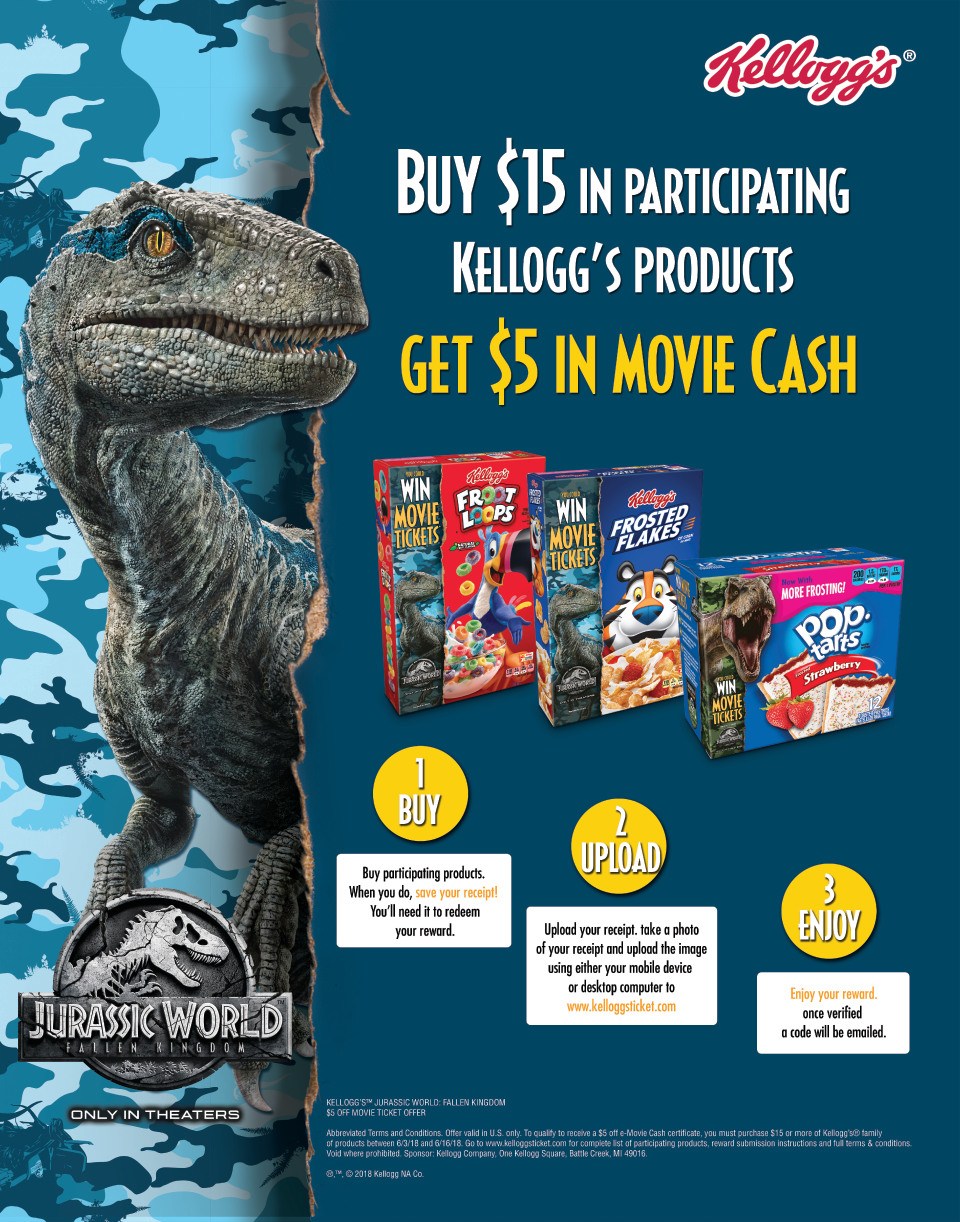 KELLOGG'S™ JURASSIC WORLD: FALLEN KINGDOM
$5 OFF MOVIE TICKET OFFER
TERMS AND CONDITIONS
BUY $15 or more of participating Kellogg's® family of products – Kellogg's® Apple Jacks® cereal (17 oz.); Kellogg's® Corn Pops® cereal (17.2 oz.); Kellogg's® Froot Loops® cereal (17 oz.); Kellogg's® Frosted Flakes® cereal (19 oz.); Kellogg's® Rice Krispies® cereal (24 oz.); Kellogg's® Pop-Tarts® toaster pastries (12 ct. – Cookies & Crème, Frosted Blueberry, Frosted Brown Sugar Cinnamon, Frosted Cherry, Frosted Chocolate Fudge, Frosted Smores, Frosted Strawberry, Variety, Hot Fudge Sundae, Strawberry) ("Participating Products") between 6/3/18 – 6/16/18 ("Offer Period") at any participating AWG store in Alabama, Arkansas, Arizona, Colorado, Florida, Georgia, Illinois, Indiana, Iowa, Kansas, Kentucky, Louisiana, Michigan, Minnesota, Mississippi, Missouri, Nebraska, Ohio, Oklahoma, Pennsylvania, South Dakota, Tennessee, Texas, West Virginia, Wisconsin or Wyoming ("Qualifying Purchase"). Note: Qualifying Purchase of Participating Products must be purchased in a single transaction during the Offer Period.  Sales tax is not included towards $15 or more in purchased Participating Products.  Not all Participating Products may be available at a participating AWG store.
TAKE A PIC of your complete receipt showing the Qualifying Purchase. Follow the instructions at kelloggsticket.com to register for the promotion and UPLOAD your receipt(s) by 11:59:59 PM (ET) on 6/23/18. AFTER SUCH DATE/TIME, RECEIPT SUBMISSIONS WILL NOT BE ACCEPTED, EVEN IF PURCHASE WAS MADE DURING OFFER PERIOD AND IS OTHERWISE IN COMPLIANCE WITH THESE TERMS AND CONDITIONS.  Message and data rates may apply (for submissions made via mobile device).  Check with your wireless service provider for any applicable rates and fees.  Only a Qualifying Purchase of Participating Product is valid for this offer.  Qualifying Purchase must be made by 6/16/18 at 11:59:59 PM (ET).  Photo must include the entire receipt from top to bottom, including all four (4) corners.  Be sure that the required information is captured in the receipt, which includes retailer name, date of purchase, time of purchase, receipt total and purchase of at least $15 in Participating Products/UPC codes ("Required Information").  All Required Information must be legible in your image(s).  For longer receipts, you may submit a picture of the receipt folded ensuring that it shows the Required Information.  Blurry and/or unreadable receipt images will be rejected.  Star the Participating Product(s) on your receipt for quicker verification.  For help, send an email to  marketing@awginc.com.
GET an email sent to the email address associated with your submission with a code ("Code") and link to a website to download your $5 off e-Movie Cash certificate toward Jurassic World: Fallen Kingdom or any other movie in participating theaters. Certificate must be downloaded by 11/30/18 and certificate expires 12/31/18.  For list of participating theaters, go to emoviecash.com/locator.
Open to legal residents of the fifty (50) United States and District of Columbia who are 18 years of age or older.  No copies, facsimiles or mechanical reproductions of receipts will be accepted.  This offer may not be combined with any other offers.  No group or organization requests will be honored.  Each receipt can only qualify for one (1) reward, and can only be submitted once.  Offer valid only in the U.S. for Qualifying Purchases made at AWG stores located in the states noted above.  By uploading a submission from your wireless device, the participant must agree to accept all applicable charges associated therewith.  Message and data rates may apply.  You are responsible for all applicable fees and taxes associated with placing a submission from a wireless device.  Submission via a wireless device is designed to work with most of the U.S. major wireless carriers in the United States, but Sponsor makes no guarantee that any particular wireless service provider will participate, and the wireless device that is used must be capable of uploading the submission to the website.  Check with your carrier for details.  Participants should check their phone's features to see if they have that capability.  Wireless service providers may charge entrants for each submission completed from a wireless device, including any error message that is sent and received in connection with the promotion, based on the applicable wireless service pricing plan.  Participants should consult their wireless service provider's pricing plan for details.  Sponsor in their sole discretion may add or delete a wireless carrier at any time, without notice.  Proof of submission is not considered proof of delivery to or receipt by Sponsor or their designee of submission materials.
Kellogg Company ("Sponsor"), AWG, and TPG Rewards (collectively, the "Promotion Entities") are not responsible for lost, late, illegible, incomplete, invalid, unintelligible, misdirected, technically corrupted or garbled submissions, which will be disqualified, or for problems of any kind, whether mechanical, human or electronic.  Promotion Entities shall not be responsible for incorrect or inaccurate submission information whether caused by any of the equipment or programming associated with or utilized in the promotion or by any technical or human error which may occur in the processing of the submission in the promotion.  Promotion Entities assume no responsibility or liability for any error, omission, interruption, deletion, theft or destruction, or unauthorized access to, or alteration of submissions.  By participating in this promotion, participant agrees to release and hold harmless the Promotion Entities, their respective subsidiaries, affiliates, representatives and agents (including any third parties who assist in the administration of this promotion) and the respective directors, officers and employees of each from any and all liability from claims, injuries, losses or damages of any kind, including without limitation, death and bodily injury, resulting, in whole or in part, directly or indirectly, from the awarding, delivery, acceptance, use, misuse, possession, loss or misdirection of any reward, participation in this promotion or any promotion-related activities.  Proof of submission is not considered proof of delivery to or receipt by Sponsor or their designee of submission materials.  Offer is void where prohibited.  Any attempt by a participant or any other individual to deliberately undermine the legitimate operation of the promotion, or to annoy, abuse, threaten or harass any other person in connection with the promotion, is in violation of criminal and civil laws and should such an attempt be made, Sponsor reserves the right to disqualify the applicable individual and seek damages and other remedies from any such person to the fullest extent permitted by law.  e-Movie Cash is a registered trademark of TPG Rewards, Inc.
Sponsor makes no warranties, and hereby disclaims any and all warranties, express or implied, concerning any gift furnished by third parties in connection with the offer.  WITHOUT LIMITING THE GENERALITY OF THE FOREGOING, SUCH REWARDS   ARE PROVIDED "AS IS" WITHOUT WARRANTY OF ANY KIND, EITHER EXPRESS OR IMPLIED, AND SPONSOR HEREBY DISCLAIMS ALL SUCH WARRANTIES, INCLUDING BUT NOT LIMITED TO, THE IMPLIED WARRANTIES OF MERCHANTABILITY, FITNESS FOR A PARTICULAR PURPOSE AND/OR NON-INFRINGEMENT
Sponsor reserves the right, in its sole discretion, to cancel, terminate, modify, or suspend this Offer should it determine, in its sole discretion, that any virus, bug, non-authorized human intervention or other causes beyond its control corrupt or affect the administration, security, fairness or proper conduct of the Offer. Sponsor reserves the right, at its sole discretion, to disqualify any individual it finds to be tampering with the operation of the Offer.  Additionally, Sponsor reserves the right to prosecute any fraudulent activities to the full extent of the law.
CAUTION: ANY ATTEMPT BY A PARTICIPANT TO DELIBERATELY DAMAGE ANY WEB SITE OR UNDERMINE THE LEGITIMATE OPERATION OF THIS OFFER IS A VIOLATION OF CRIMINAL AND CIVIL LAW. SHOULD SUCH AN ATTEMPT BE MADE, SPONSOR RESERVES THE RIGHT TO SEEK DAMAGES FROM ANY SUCH INDIVIDUAL TO THE FULLEST EXTENT PERMITTED BY LAW.
SPONSOR: Kellogg Company, One Kellogg Square, Battle Creek, MI 49016.
®, ™, © 2018 Kellogg NA Co.